The modern camper prefers the peaceful countryside to ultramodern, yet extremely expensive recreational centres. We offer various cycling- and walking routes, free of charge.
CYCLING- & WALKING ROUTES
Camping Zeevangshoeve is situated in the immediate vicinity of various cycling- and walking routes.
For example the "Seedyck route" a tour with starting point in Edam, through the former Zuider Zee city, straight through the farmlands (Zeedamppad), over the robust (Zuider) sea dike.
CLICK HERE for the Seedyck route
Or the "Paling route", a varying tour along the ancient peat polder Katwoude.
CLICK HERE for the Paling route
The Gouwzee route takes in the classic tourist destinations of Edam, Volendam, Marken and Monnickendam. From Volendam you take the ferry over the Gouwzee to Marken.
CLICK HERE for the Gouwzee route
Various, free routes will be available at the reception, guaranteeing lots of cycling- and walking fun.
Sail into history
On the edge of the former inland Zuiderzee, the Volendam Marken Express takes you back in time in any season, whether you visit us in the spring, summer, fall, or winter.
Put on traditional Volendam attire for the famous photo, see for yourself how cheese and wooden shoes are made, or visit the authentic houses you can find on Marken. Discover the old ways of the rural life or enjoy the beautiful and lovely life at the waterfront at the restaurants with family or friends.
The Volendam Marken Express has been sailing for almost 100 years.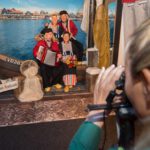 Now with a discount !!
Discount voucher 20% Marken Express & Discount voucher 20% Photographer Volendam available at the reception!
CYCLE-FRIENDLY CAMPSITE!
We carry the Cyclists Welcome quality label.
You can have a cup of coffee or tea at our farm, settle down and enjoy the surrounding area. Of course you may visit our stable.
Also:
Picnic site
Bike shed with charging point for E-bikes
Rubber solution set and bicycle pump
Cyclists can fill their water bottle or go to the toilet
First-aid box
Pitches for hikers
Free walking- and cycling routes
For more information CLICK HERE
Facilities