An increasing number of holiday-makers wish to spend their holiday in rural surroundings. Many of them prefer the peaceful countryside to a stay at large, impersonal and commercial campsites.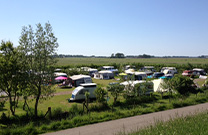 Location
The campsite is situated within walking-/cycling distance of Edam, at the Zeevangsdijk (dike) amidst the moorland of the municipality of Zeevang. In spring you can observe meadow birds like the black-tailed godwit, the lapwing and the redshank. Step on your bike and discover the picturesque surroundings with grand views (cycling-/walking routes are available, free of charge) or enjoy water(sport) fun at and around the Ijsselmeer.
Farm
Besides the farm campsite our company consists of a livestock farm with dairy cows. We have a potbellied pig and chickens. You can become acquainted with this livestock farm and learn how cows are milked.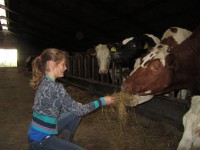 Pitches
The spacious pitches (100-120 m2) are situated on the north side and have electricity (6 ampere).
Sanitary fittings
The heated sanitary building offers modern, clean and fresh sanitary fittings, consisting of 5 showers, 6 toilets, a family shower, a baby bath, toilet/shower for disabled people, wash-cabins and dishwashing places. Hot water and shower, free of charge. Washing machine and drier are at your disposal.
Legionella – Free
Safety is considered of paramount importance. For this reason we would like to meet governmental requirements. We have a certified, legionella-free water installation.
Pets
You must keep your dog on the leash and take it out outside of the campsite.
Swimming
By means of a staircase over the dike you can reach the recreational beach with swim platform at the Ijsselmeer. The Ijsselmeer offers plenty of swimming-, fishing-, and watersports possibilities. A subtropical swimming paradise is situated in Volendam (withing cycling distance).
Playground equipment
There is a swing, slide, a big trampoline and go-carts for kids.
Reception
You can check in/out at the reception and find brochures, cycling routes and further information.
Other facilities
The campsite offers:
Free WiFi
Bike shed with charging point for E-bikes
Farm canteen with TV and reading table
Chemical toilet disposal facility campers
AED-device
Facilities